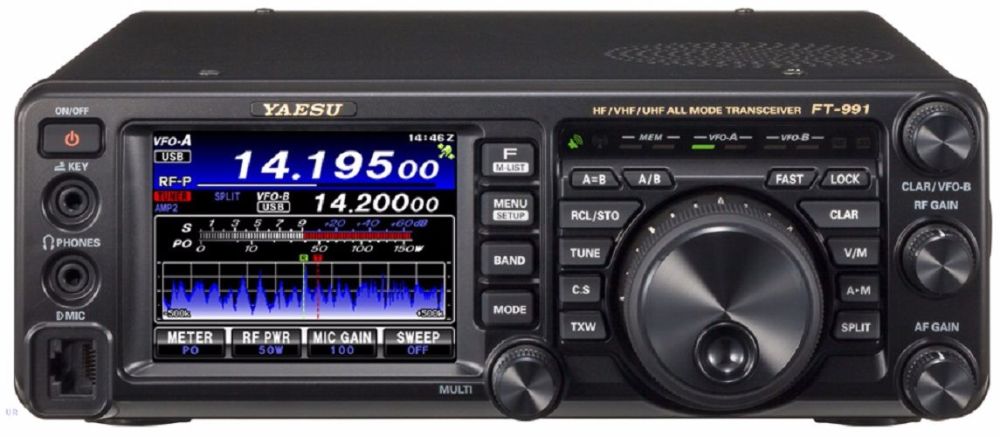 FT-991A All Band, All Mode (inc C4FM) Portable Transceiver

£1229.95
Yaesu FT-991A All Mode All Band Portable Transceiver

The FT-991Transceiver is the next generation in all mode, all band MF/HF/VHF/UHF transceiver with C4FM ( System Fusion) digital capabilities. The FT-991 includes multi-mode operation on CW,AM, FM, SSB and Digital Modes ( Packet Radio, PSK31, RTTY and C4FM) with 100W TX Output on HF and 6M ( 50W on VHF/UHF).

The NEW FT-991 incorporates as high resolution full colour 3.5" TFT touch panel for superior operator experience and visibilit, incorporating a high speed Spectrum Scope wiht ASC ( Automatic Spectrum-scope Control) built in.

The FT-991 is designed for the most competitive operating situations, with a suite of new features to enhance the experience of operating the FT-991 whether you are using it at home, mobile or in the field. The FT-991 will provide outstanding performance in providng access to the full range of exciting modes available on the ham bands today.
FT-991A DescriptionState of the Art Digital Signal Processing
Recognising the all important adage of ' You can't work them if you can't hear them' the FT-991A fetures a rugged state of the art highly balanced receiver circuit configuration. The high speed floating point DSP chip from Texas Instrument TMS320C6746 (3000MIPS /2250 MFLOPS) used in the Receiver design guarantees excellent intrerference rejection from real signals under real-world conditions, not only on the HF bands but also on VHF and UHF.
Selectable 3KHz and 15KHx Roofing Filters
The 1st IF incorporates selectable robust 3KHz and 15KHz roofing filters that very effectively attenuate interferring out of band signals. The triple conversion design allows a highly flexible gain distribution in each stage ensuring effective elimination of interfering signals through the use of filters and variable gain distribution.
Automatic Spectrum-Scope (ASC)
The Advanced Spectrum Scope located just below the LCD Frequency and Power Meter Display gives the operator all the information necessary for locating QSOs and now includes real time scope function wiith full screen display option
Large Colour TFT Touch Screen Display
The high-resolution (480 x 272 dots) 3.5-inch wide colour TFT touch screen displays the operating information and the status of the transceiver functions isplayed on this screen and provide the operator with easy to read operating information.
USB Serial Bus connection
The FT-991A can be connected to a computer using a standard USB cable for CAT control and firmware updates.
100 Watts of Solid Performance
The RF Power Ampifier in the FT-991A provides a clean and solid 100 Watts of Operating Power ( 50Watts on VHF/ UHF) and combined with a large heatsink and forced air automatic fan provides increased operating time and prevents overheating of the Amplifier.
Compact Lightweight and Portable
The FT-991A comes in a compact, lightweight package suitable for Portable, mobile and Fixed station installations. Measuring 229W x 80H x 253D mm (9" x 3.2" x 10"; 9.5lbs) and weighing only 4.3 kg, this robust full featured mobile/portable radio is ready to go when and where you are!
Internal Automatic Antenna Tuner
The Internal Automatic Antennae Tuner included in the package uses LC switching network with a large 100 channel memory. Tuning data is automatically stored and retreived to reduce tuning time when changing frequency.
Support for Advanced C4FM Digital Functions
V/D Mode for Simultaneous transmission of Voice and Data with powerful error correctio optimised for mobile operation & Voice FR mode for high quality audio transmission. #
AMS (Automatic Mode Selection) function instantly recognises digital mode or FM and enables mutual communictions
GM (Group Monitor) function allows on screen checking of group members with in range
126 different DSQ (Digital Squelch) enables unique selection of stations.
# Sending and Receiving of image data using C4FM is not supported in the FT-991
Other Useful and Convenient Features

Speech Processor
Parametric MIC EQ.
Five channel digital voice memory function for repetitive voice messages.
MULTI dial design allowing adjustable tuning dial tension
Key button illumination by WHITE LEDS
Independent AF Gain and RF Gain and CLAR/VFO-B knobs
FH-2 Remote keypad control (optional)
VOX and MOX
99 Channel Memory supports group view with 12 Alphanumeric characters
RTTY/DATA jack
TUN/LIN allows connection of VL-1000 Quadra Linear or FC-40 External ATU unit
CS key for quick access to preselected menu item
USB cable provides CAT, Audio in/out, PTT/RTTY(FSK SHIFT) control
Carrying handle and Tilt stand included
Included:
FT-991A Transceiver
Hand Microphone MH31A8J
DC Power Cord
Operating Manual
Warranty Card
Specifications



FT-991A Transceiver



GENERAL
Rx Frequency Range
30 kHz - 60 MHz , 118 -164MHz, 420 -470MHz (Operating)
1.8 - 54 MHz, 144- 148MHz, 430 - 450 MHz
(Specified performance, Amateur Bands only)
Tx Frequency Range
1.8 - 54 MHz, 144-146MHz, 430-450MHz (European Models - Amateur Bands only)
Frequency Stability
±0.5ppm (after 1 minute @ -10ºC to +50ºC)
Operating Temperature Range
-10ºC to +50ºC
Emission Modes
A1A (CW), A3E (AM), J3E (LSB,USB), F3E (FM), F1B (RTTY), F7W (C4FM)
F1D (Packet), F2D (Packet)
Frequency Steps
5/10Hz (SSB, CW, AM), 100Hz (FM, C4FM)
Antenna Impedance
50Ω, unbalanced
16.7Ω - 150Ω, unbalanced (1.8 - 29.7 MHz) TUNER ON Amateur Bands ONLY
25Ω - 100Ω, unbalanced (50 - 54 MHz) TUNER ON Amateur Bands ONLY
(Tuner ON, 1.8 MHz - 50 MHz Amateur bands, TX only)
Power Consumption
Rx (no signal) 1.8 A
(approximate figures)
Rx (signal present) 2.2 A
Tx (100W) 23.0A HF /50MHz
Tx (50W) 15A VHF/UHF
Supply Voltage
DC 13.8 V ±10% (Negative Ground)
Dimensions (W x H x D, mm)
9" x 3.2" x 10" ( 229 x 80 x 253mm)
Weight (approx, kg)
9.5lbs (4.3Kg
TRANSMITTER
Power Output
HF/50MHz 5 - 100 Watts (2 - 25 Watts AM carrier)
144/430MHz 5 - 50 Watts (2 -12.5W AM carrier)
Modulation Types
J3E (SSB): Balanced
A3E (AM): Low-Level (Early Stage)
F3E (FM): Variable Reactance
F7W (C4FM) 4-level FSK
Maximum FM Deviation
±5.0kHz/±2.5kHz
Harmonic Radiation
Better than -63dB (1.8 - 30 MHz,50,144,430MHz Amateur bands European Version only)
SSB Carrier Suppression
At least 50dB below peak output
Undesired Sideband Suppr.
At least 50dB below peak output
Bandwidth
3kHz (LSB/USB), 500Hz (CW), 6kHz (AM), 16kHz (FM/C4FM)
Audio Response (SSB)
Not more than -6dB from 300 to 2700 Hz
Microphone Impedance
600Ω (200 to 10kΩ)
RECEIVER
Circuit Type
SSB/CW/AM Triple Conversion Superhetrodyne
FM/C4FM Double-Conversion Superheterodyne
Intermediate Frequencies
SSB/CW/AM 69.450MHz/ 9.000 MHz / 24KHz
FM/C4FM 69.450MHz / 450KHz
Sensitivity
SSB (BW: 2.4 kHz, 10dB S+N/N)
0.158µV (1.8 - 30 MHz, RF AMP2"ON")
0.12µV (50 -54 MHz, RF AMP2"ON"
0.11µV (144 - 148, 430 -450MHz, RF AMP2"ON")
AM (BW: 6 kHz, 10dB S+N/N, 30% modulation @ 400 Hz)
5µV (0.5 0 1.8 MHz, AMP2 "ON")
1.6µV (1.8 - 30 MHz, AMP2"ON")
1.25µV 50 - 54 MHz, AMP2"ON")
FM (BW: 15 kHz, 12 dB SINAD)
0.35 µV (28 - 30 MHz,50 -54 MHz, AMP2"ON")
0.18 µV (144 - 148, 430 -450MHz, AMP2"ON")
* There are no specifications in frequency ranges not listed *
Selectivity (WIDTH: Centre)
Mode -6db -60dB
CW/RTTY/PKT 0.5kHz or better 750Hz or less
SSB 2.4kHz or better 3.6kHz or less
AM 6kHz or better 15kHz or less
FM 15kHz or better 25kHz or less
Image Rejection
70dB or better (160 -6M Amateur bands)
60dB or better (2m /70cms Amateur band)
Maximum Audio Output
2.5W into 4Ω with 10% THD
Audio Output Impedance
4 to 8Ω (4Ω: Nominal)
Conducted Radiation
Less than 4 nW



Specifications are subject to change, in the interest of technical
improvement, without notice or obligation, and are guaranteed
only within the Amateur Bands.